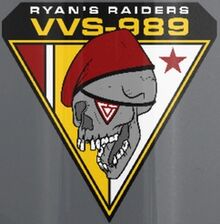 VVS-989 Ryan's Raiders is a fleet level formation of Terran Fleet Command, and the longest continually commissioned fleet after the Terran Home Fleet. Ryan's Raiders was formed in the year 2226 shortly before the outbreak of the First Terran-Compact War. It's origin was among the small formation of picket ships assigned to the Verdun fortress on the borders of the Greater Terran Union and the Algan Republic, and was responsible for carrying out lightning raids across the border to harass Algan shipping and seize isolated systems. They are most famous for capturing the Sadarti System, the Tyrum's homeworld system. The fleet would go on to exist in various sizes for centuries, and participate in every major war involving the GTU.
Community content is available under
CC-BY-SA
unless otherwise noted.